The average trade show or exhibition hall experience typically involves a sea of very similar spaces decked out in neutral tones without anything distinguishing one from another. What can you do to ensure that your company stands out from all the others? As your print partner, Vomela can help you create an interesting, attractive display that will turn a drab exhibition into a spectacular space.
Tradeshow Objectives
Before we dive into the many options available for sprucing up your event, let's discuss your goals for the space. What are you hoping to accomplish during the exhibition? Typical goals include:
Increasing contact lists. Exhibitions provide you with the opportunity to enhance your email list in an easy and ethical manner. You know they're interested if they sign up themselves!
Generating leads. An event is a great place to make contact with a group of people who are at the show because they're interested in your industry.
Connect personally with potential customers. This allows your future clients to get to know you and your company, leaving them with a positive impression when it comes time for them to make their purchasing decisions.
Deciding on your mission prior to planning can help you determine which layout would work best for you.
Booth Layout
Figuring out your objectives for the space is the best way to decide how to set up your exhibition or booth. If you're looking to induce conversation, you should consider grouping chairs in clusters, creating ample seating areas that are conducive to talking. However, if the layout of the hall won't allow for seating, that's good to know! You could use podiums to stand at and include promotional giveaways.
Are you eager to land some leads? Putting your products on display is an easy way for potential customers to experience the benefits of your brand over a competitor. You can strategically place tables with sign-up forms to encourage customers to share their contact information.
What if you're only allowed a small amount of space? Use interesting and attractive displays, like stands, podiums, and hanging elements to entice people to stop by. Don't let a small display be a boring one!
Incredible Design
There may be other things that you need out of your tradeshow booth. Maybe your company wants to use sustainable materials that can be recycled once the event is finished. Or, on the flipside, you need something that can be easily taken down, stored, and used again. You may want storage space hidden in your display for any marketing collateral or personal items. Whatever your need is, our Design team at Vomela can take your objectives, layout, and requirements to design a truly memorable exhibit. Creating a functional space while cutting through the clutter of other exhibitors is the secret sauce for success. Eye-catching colors, spectacular photography, and interactive experiences are just a few ways your design can grab the attention of attendees.
Need some inspiration? Check out some of our projects below!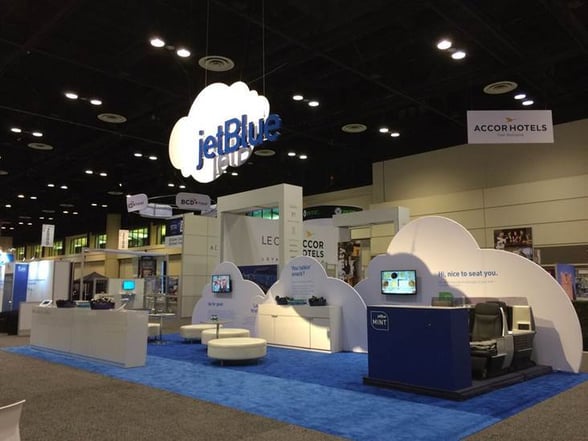 We love this booth example because it features a variety of conversation areas. The space also includes airplane seats to allow customers to experience highlights of the JetBlue brand!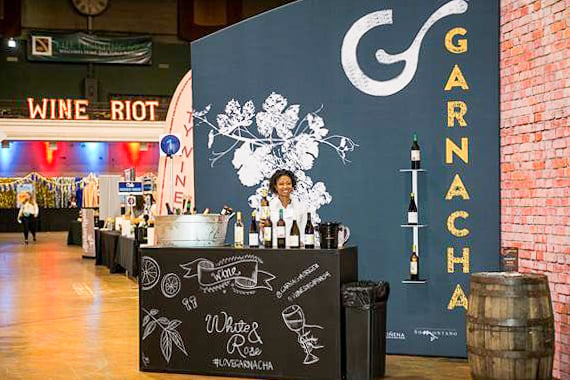 This is a great example of using a small area to create a big statement. Handing out samples of their wine not only attracted potential customers, but sparked their interest in the brand, making them more likely to purchase after the event.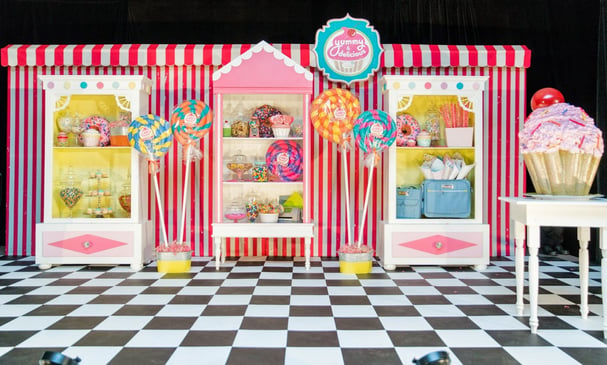 Talk about eye popping colors! You won't soon forget this sweet display.
Before your next tradeshow, contact us to see what we can do for you!