School breaks are not the time to take a break from learning. As Review of Educational Research notes, most youth lose about two months of grade-level equivalency in mathematical computation skills over the summer months. Low-income youth also lose more than two months in reading achievement, while their middle-class peers make slight gains. A group from St. Paul-based The Vomela Companies and HP recently took part in a team-building experience that supports summer learning programs for students associated with the Boys and Girls Club of Metro Atlanta. As a result of their team efforts they prepared 30 solar car kits and 12 assembled solar cars to help combat summer learning loss. The event took place in HP Graphics Experience Center in Alpharetta, GA.
Boys & Girls Clubs of Metro Atlanta will distribute car kits to 22 locations this summer as part of Summer Brain Gain – a summer learning loss prevention program. For students of low socio-economic status, the loss of learning over summer break can be staggering. This learning loss can stack up from year to year, creating a chasm many low-income students struggle to cross. For kids already at a disadvantage due to lack of resources or opportunities, summer learning loss can prevent them from graduating from high school on time or at all.
Vomela/HP volunteers selected a "Go GREEN Racing" program facilitated by Impact 4 Good, LLC. (impact4good.com), a company that runs socially conscious team-building programs, to oversee their community service activity. Working in teams, participants used creativity and ingenuity to build solar cars in preparation for an exciting, double-elimination tournament. Overall the teams prepared 30 solar car kits for the girls who will be participating in a summer camp program, which allows their young minds to be introduced to and learn hands-on about science, technology, engineering and math (STEM) and alternative energy. Participants also had-wrote a special "STEM Message of Encouragement" which was included with each solar car kit to motivate and inspire the children.
"We are so grateful to The Vomela Companies and HP for their support of our kids and our Clubs," said Adrianne Penner, Senior Director of Programs at Boys & Girls Clubs of Metro Atlanta. "Programs like this help us combat summer learning loss and get kids and teens on the path to reach their full potential."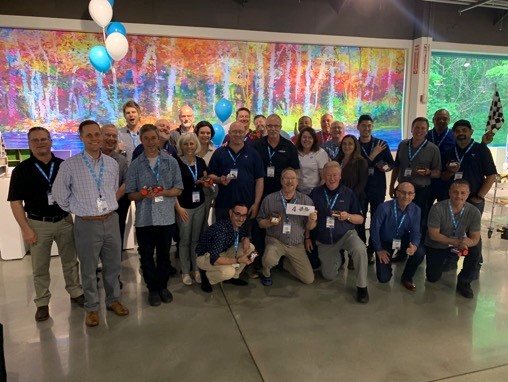 The Vomela Companies transform ideas into memorable brand experiences by designing and producing impactful visual communications. The company employs 1,300 people in 23 cities across North America.
Want to learn more?