Vehicle wraps are a cost-effective way to establish a brand, make visual impressions, amplify messages, and improve response and conversion rates for products and services.
Even better, vehicle wraps are inexpensive advertising. Vehicle wraps are mobile billboards that garner 2.5 times the views of a static billboard, at a fraction of the cost—4.5 cents per thousand ($.045 CPM), compared to $44 CPM for TV ads and $20 CPM for radio ads. And unlike digital ads, vehicle wraps can't be blocked through technology.
Vehicle wraps motivate response, too. In a recent poll, 70% of consumers said that vehicle wraps influence their purchase decisions—and 60% said they were more likely to buy the advertised product when they see vehicle graphics for the product five or more times.
A relatively short history, with explosive growth
Vehicle wraps were first used in 1993, when Pepsi pasted vinyl ads on the sides of Seattle city buses. The idea quickly spread to race cars, aircraft, boats and then freight trucks. Today, the vehicle wrap business boasts $1.8 billion in sales in the U.S. and $4.8 billion in sales globally. The industry is expected to grow at a compound annual growth rate of 22%.
Five Awesome Trends
For all these reasons, it is no wonder that vehicle wraps are growing in both popularity and sophistication. Consider these five fleet wrap trends:
1. Improvements to vinyl and printing processes
Today, almost all vehicle wraps are printed on high-quality, 2-mil thick plastic vinyl that comes in an endless variety of colors and patterns. At the same time, large format printers use new and better ink to produce visually arresting images that can last for years, even under tough road and weather conditions. The stretch in today's vinyl assures a clean fit over corners, rivets, corrugations and curves, and improved adhesives make for easier installation.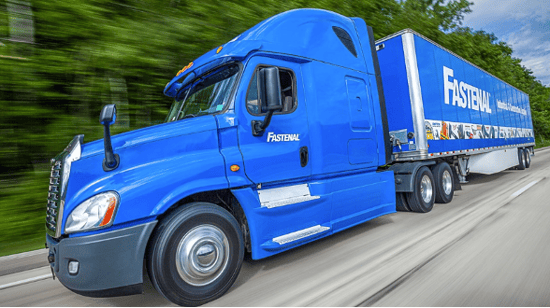 This semi-truck boasts color-matched truck and trailer wraps (produced by Vomela Transportation Group), creating a sleek design that emphasizes Fastenal's huge selection of products via a visual collage and simple messaging.
2. New colors and textures that boost attention
Films in matte black, jewel tones (like emerald-green sparkle), wood grains, metallic colors and chrome make for limitless design options. Eye catching printed designs like the one below garner attention and help build brand awareness.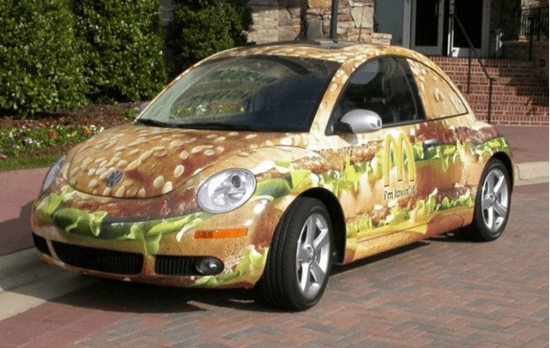 A sesame seed hood? This mouth-watering design leaves little doubt about which brand it represents.
3. Illusion wraps
Brand owners are using illusion wraps on large trucks, buses, and mass transit vehicles to grab attention and promote their brands. Wraps that create the illusion of seeing inside the vehicle are especially popular now. Examples include: food transportation vehicles that feature cooks in a kitchen, seemingly inside the truck, and moving vans that show movers stacking furniture inside the van. Illusions like these attract attention, but they can also help showcase a brand's differentiators, i.e. kitchen cleanliness or the industry's most careful packing crews.

This Copenhagen Zoo bus wrap creates the illusion of the vehicle being strangled (or hugged?) by a snake, promoting the zoo's collection of large, exotic animals.
4. Window wraps
Perforated materials now allow for window decals that can be seen by external audiences even as views remain unobstructed for those that are driving or riding in the vehicle. Window wraps extend the surface area available for messaging while meeting National Transportation and Safety Board requirements.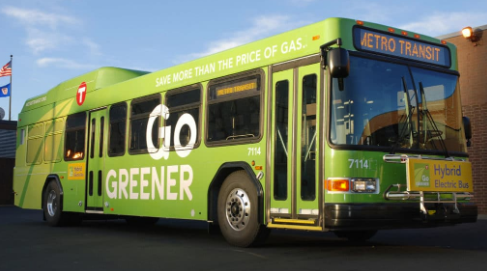 In this environmental message, graphics safely cover windows without obstructing riders' views.
5. Field installation
Leading vinyl wrap companies offer fully managed, multi-location field installation. Reputable companies can time installations to accommodate events like new branding rollouts or acquisitions, all while avoiding business disruption and downtime. Expert installers provide comprehensive installation services—removing old graphics, and cleaning and preparing surfaces prior to installation.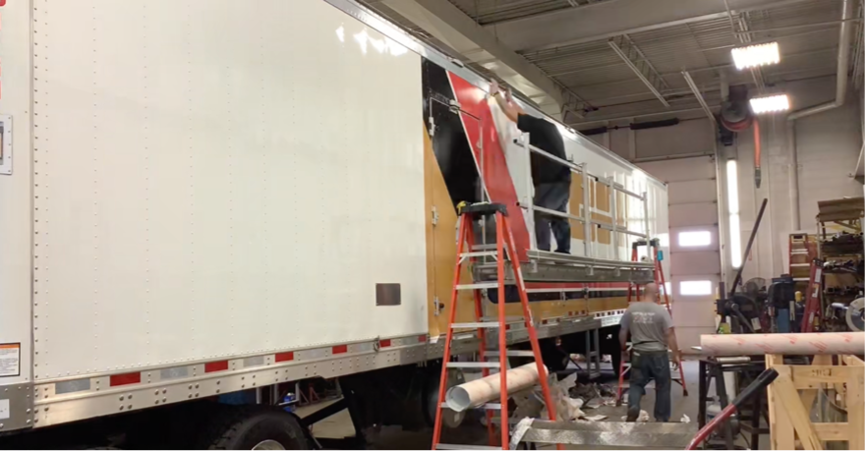 Professional installation ensures that fleet wraps stand the test of time.
Look for full service—and experience
While internet-based services and pop-up stores abound, the design, printing, and installation of vehicle wraps is best left to experienced professionals. Look for companies that offer a broad portfolio of work,
in-house design services and prototyping, high-quality materials, and comprehensive installation services.
As one of the largest fleet graphic suppliers in the US, the Vomela Transportation Group has printing and installation facilities across the nation—making local or far-reaching rollouts seamless for any size fleet (from 1 to 10,000+). Click to view our work or contact us for help with your next fleet project.