This could mean extending face mask policies or offering expanded options to pick items up in store. Clear signage and wayfinding are key to help customers move through your space to efficiently find what they need. Your check-out lines may need to be restructured to provide ample space for distancing. Reconfigure stores based on the region to better align with the customers who live and shop there.
Simple changes such as wider aisles, self-checkouts, and pickup lockers can make a world of difference. Micro level changes will have macro level impacts to your bottom line.
Offer multiple ways to shop
Consumers have changed the way they shop through the course of the pandemic. Curbside pickup soared. Many retailers sifted resources from "buy online, pick up in store" to the curbside model, dedicating more labor and space to the service. An omnichannel approach is now more important than ever.
Retailers that were innovators or adapted more quickly saw the most success. This will also be true as the country reopens. The retailers that offer new experiences to customers see greater profits than those that stick to the pre-pandemic status quo. Those that can seamlessly combine the online shopping and in-store experience will do even better.
The convenience provided by online shopping, same day delivery, and curbside pickup has changed the way people shop forever. Economic models suggest in-store, non-essential retail shopping will not return to pre-pandemic levels until late 2022 or early 2023.
Create a space to remember
For much of the past year, consumers have been living in isolation. Entertainment has been limited and lack of social events halted the need to purchase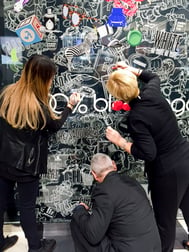 more. So, as life has remained stagnant for many, retail now has the opportunity to help push the world forward & reignite the excitement of in-store shopping.
Consumers want to be greeted by fresh experiences. Create a positive space that people want to be immersed in and browse through – make your store fight the convenience of pulling something up on a phone. Invigorate the senses with interactive, vibrant displays they can touch & feel - from regularly updated end caps to large-scale displays where shoppers can experience products as they would in their homes.
A fresh, interactive space not only increases foot traffic by welcoming customers, it also shows them you are committed as a company. It implicitly coveys a level of trust in your organization. For both consumers and your employees, you have shown up for them just by creating an engaging atmosphere.
Remember, the return on investment for décor level updates it is not a one-time increase. Our customers consistently see a sharp increase in the immediate timeframe after a remodel is completed. Then that curve flattens out to a establish a new delta that was higher than the original.
Our final advice: Start now. In ten years, the success stories we will be talking about will be those retailers that were able to adapt and change with the new market.
Are you ready to transform your space? Reach out to your Vomela account manager or contact us HERE