Some of the most unique specialty printing techniques can be employed with little more than an added printing plate. Adding unusual inks to your print job packs a big punch for not much of an additional cost. These are just a few fun ideas to liven up your next project!
Scented Printing Inks
When we consider the senses that are engaged when interacting with printed items, sight (of course) and touch come to mind. But would you believe that you can print a smell?
Scented printing inks deliver a whole new experience to your audience. For offset litho presses, scented inks are made by mixing a fragrance into a pre-made ink. The ink is then applied with a plate as an additional (yet invisible) color on the press. In the case of inkjet printing, the liquid containing the fragrance can be sprayed in micro-droplets along with the color inks.
No matter which printing method you use, scented inks can make a huge impact. Scratch-and-sniff elements can reveal a scent upon activation, giving your audience a choice in their experience. Premixed scented inks are already "smelly" when your project is delivered. There are even specialty glues available that can be infused with a custom fragrance, like the perfume samples in magazine ads.
As always, we recommend planning your job ahead with the guidance of your printing partner. Your account manager can help you determine where the best application would be and any other considerations that are pertinent.
Metallic Printing Inks
When you venture beyond the familiar territory of cyan, magenta, yellow, and black, a wide world of color possibilities opens up for you. Metallic inks have reflective metal particles such as copper, bronze, zinc, or aluminum suspended within them. When the ink dries, the metal particles reflect light and create a metallic sheen.
Pantone has some pre-mixed metallic inks (PMS 871-877) in standard shades like silver, gold, and copper. There is also a range of PMS colors (PMS 8XXX) that are made by mixing one of the pre-mixed metallics with a nonmetallic base color. Whichever metallic ink you choose, the color and shine are beyond what regular inks can produce. Yet they are less shiny and reflective than the more complicated and expensive foil stamping.
Designing for metallic inks can be lots of fun! They are especially impressive when used in large areas that can showcase their shine and luster. Consider a metallic background with knockout (white) text for a high-contrast look. Metallic inks are also more opaque than typical printing inks, so the color of the paper shows through less. Printing on a dark stock would be another great way to highlight a metallic ink.
Smooth, coated paper stocks are best to show off the shine of metallic inks, but sometimes the metallic flakes can rub off of them. It's best to assume you'll need to run your print job with a coating—whether aqueous, varnish, or UV—to help seal the flakes. Another important consideration is that metallic inks should not be used on paper that will be run through a laser printer or copier. The metal flakes will peel off the sheet, sticking to (and ruining) the machine's costly parts!
Glow-in-the-Dark Printing Inks
Every kid is fascinated by glow-in-the-dark items, but adults enjoy the experience too! Most popular for events like concerts and weddings, glow-in-the-dark can bring a magical element to any nighttime activity. Maybe your next gala dinner should have glow-in-the-dark menus?
Glow-in-the-dark inks are made with photoluminescent chemical compounds (typically zinc sulfide or strontium aluminate). The final products need light exposure to "charge" before they will glow. The amount of time needed to charge the pigments depends on the type of light exposure, but is usually no longer than 30 minutes. Also, keep in mind that glow-in-the-dark elements appear green. This is because the human eye is most sensitive to the color green and therefore it shows up better in the dark!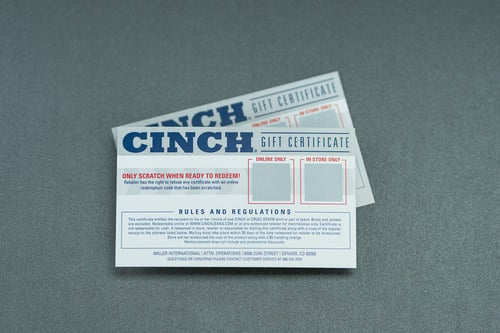 Scratch-Off Printing Inks
Like the scratch-and-sniff inks mentioned above, scratch-off inks provide a truly engaging experience for your audience. The element of mystery is irresistible—just think of the popular lottery scratcher cards.
Most scratch-off inks are UV inks, which means they are cured rather than air drying. It's a separate process to print over material that is already printed with regular inks, so you have to choose your stock carefully. You need a smooth, coated stock that is heavier than 70# text weight and thinner than 30 pt. board. You also need to make sure your coatings, if any, will work with the UV ink printed over it.
We've seen many unique ideas for scratch-off ink projects. Examples range from world maps where you can scratch off each country to visit, to a poster with movies to scratch off as you watch them. We even printed a wedding invitation with a "lucky" theme and the wedding date was underneath a scratch-off ink. You could hide a discount percentage on a direct mail postcard or print your own tickets for a trade show booth. The ideas are endless with the right marketing team!
Again, we emphasize planning ahead of time to take into consideration the specifications necessary. For instance, the scratch-off area should be 1/16" larger than the artwork it's covering. You will also want to consider scaling back the artwork underneath a scratch-off area to prevent it from showing through (especially important if you choose a lighter scratch-off color). Work with your account manager to develop a custom print job with a super fun result!
Unusual Inks are a great way to add interest to your project! Contact your Vomela rep or click here to get started on your next printed project.