One of the best ways to engage with new, existing or potential patients is through compelling direct mail campaigns and printed materials—from annual visit reminders to awareness campaigns for new services and locations. Your print wellness campaigns can include health related topics such as flu shots or diabetes screening, new physician announcements, information session invitations, donor programs and even employee recruiting programs.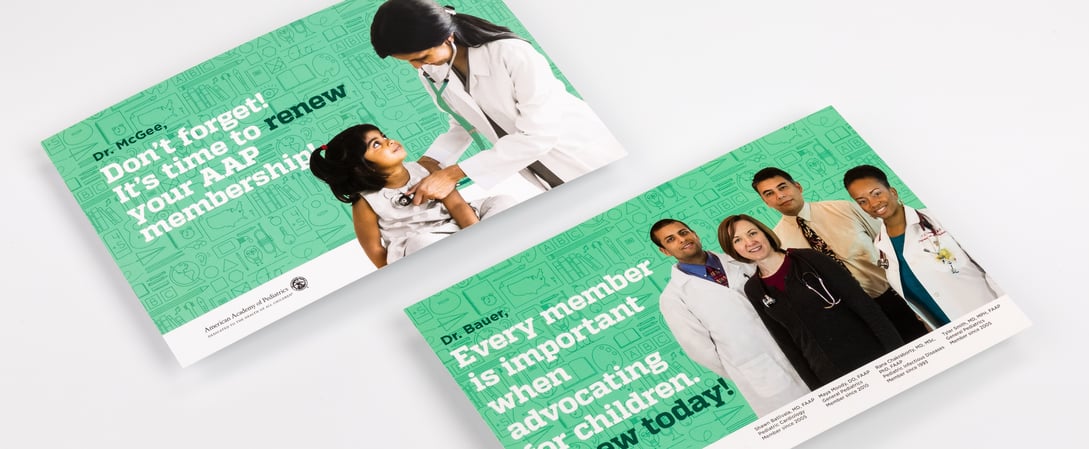 Here are a few tips and best practices when creating a new wellness campaign with print:
Get personal: Data-driven, personalized campaigns outperform generic, one-size-fits-all messaging. In this example for a new mover campaign, by using data involving people who had recently moved to a targeted location, we used geo-specific marketing strategies to personalize messaging by clinic, doctor, specialty, and healthcare service location. Our automated campaign sends elaborately personalized direct mail to new residents on a monthly basis.


Track ROI: A well-planned campaign gives you clarity on ROI. Back to our new mover campaign, it has been so successful we are in our sixth year of supporting this healthcare system's team with complex marketing programs through personalization. The program includes detailed tracking reports back to the hospital that accounted for ROI of spending per family, and revenue generated per visit. Learn more here.
Multichannel marketing: Multichannel marketing campaigns integrate offline and online channels. Target your message to individuals across a wide-variety of platforms and cut through the noise.


HIPAA Compliance:

Your printer and direct mail campaign partner should maintain

data privacy compliance policies and practices.

We understand that in the healthcare field, there are serious repercussions if data is not handled properly. Our data security model is based on the pillars of confidentiality, availability and integrity of data, which provides our clients with the assurance that the highest standards of data usage are being met.

Elk Grove Graphics

, a Vomela Network Company, has extensive experience and a proven record working with clients in the healthcare field. EGG also keeps contracted HIPAA compliance consultants to help maintain our HIPAA compliance related policies, to keep procedures current, and advise on any PHI (Patient Health Information) related concerns on usage or data handling.
Environmental considerations: In the print industry, emissions are mainly driven by the inks (amount and type) and the equipment used. The more ink used, the more emissions. Thus, The Vomela Companies is always looking for ways to use less ink while exceeding print quality expectations demanded by customers. The Vomela Companies have reduced emissions by approximately 90% through movement away from solvent based inks.

The Vomela Companies is considered a "small" emitter of VOC emissions. While we have grown substantially as a company in the last 10 years, we have sustained our "small" emission status by switching out chemicals that have higher emissions (such as the use of UV, latex and aqueous based inks over solvent as noted earlier) and by utilizing newer equipment such as digital presses over traditional screen print presses that have lower emissions per part.
While there is no "one size fits all" approach for those in the healthcare industry, we begin each client engagement with a conversation. What are your challenges? How can we solve your unique problems? Listening and then finding creative solutions is how we deliver better service—rather than selling a packaged commodity.
Learn more about our work with healthcare system here: Driving the Healthcare Experience Through Print Graphics and Personalized Communication.